Vehicle Gospel Signs
Have you lost all shame for the Lord and His words? Get ready for lots of heads turning your way! We can help you turn your vehicle into a billboard on the move.
This lettering consists of durable vinyl stickers that we will mail to you and you can affix to your vehicle or other substrate yourself (unless you want to drive to Oregon so we can do it for you). They will already be laid out and spaced correctly so that you will be able to put them on your vehicle neatly with a minimum amount of skill or tools required. (We will enclose simple application instructions with the signs to help guide you through the process.) Click here to watch a short video on how to install a gospel sign on a vehicle.
Standard Vehicle Signs
The following vehicle signs are available in either 11"x35" or in 18"x50".
Click on a sign below to enlarge it. Then hover the enlarged version for Next and Previous buttons.


#600


#601


#602


#603


#604


#605


#606


#607


#608


#609


#610


#611

#612


#613


#614


#615

#616


#617


#618


#619


#620
Quantity
Size
Non-Reflective
Reflective*
White
Color (Blue, Black, or Red)
White
Red
Single Signs
18" X 50"
$15
$15
$30
$30
11" X 35"
$10
$10
$20
$20
Disciple's Dozen


(2 each of any 6 of the standard vehicle signs)

18" X 50"
$150
$150
$300
$300
11" X 35"
$100
$100
$200
$200
*Makes your message much easier to read at night when headlights shine on the sign as shown below.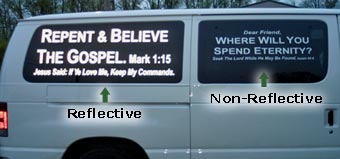 Custom Vehicle Signs
Below is a gallery of custom vehicle gospel signs we have made. Browse these photos for inspiration on your own custom vehicle signs. Just choose your message, call us with your dimensions, and we will take it from there.
Pricing on these signs will vary based on size, complexity, and the type of material used. In general, however, you can expect the per square foot prices to be approximately the same as the standard vehicle signs shown above. In other words, for an area less than 24 inches tall, you could do a reflective message up to 36 inches long for around $20, up to 54 inches long for around $30, or up to 72 inches long for around $40. (Non-reflective signs would be around half of these prices.) Additionally, there will generally be a one-time $5 customizing charge for each new custom sign that we design.
Click on a sign below to enlarge it. Then hover the enlarged version for Next and Previous buttons.

How to apply a vinyl sign

Download 2014 Catalog (2.72 MB)
If you would like a free catalog sent to you in the mail, please e-mail or call us with your mailing address.