Winter Special
FREE BOOK!
Compliments of Watchman Gospel Signs
Recieve a free copy of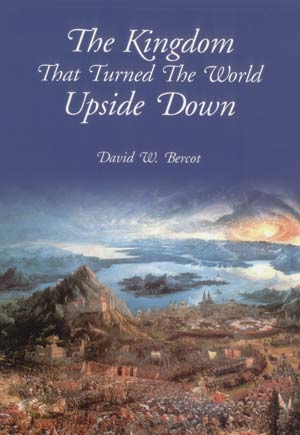 while supplies last
Description

---
If someone were to ask you what was the theme of Jesus' preaching, what would be your answer? Man's need for salvation? God's love for mankind? The new birth? To be sure, Jesus spoke about all of those things. And they're all essential truths. But none of them were the theme of His teaching. The theme of Jesus' message was the kingdom of God. In The Kingdom that Turned the World Upside Down, David Bercot takes the reader back to Jesus' teachings of the kingdom - teachings that have too often been forgotten. Bercot describes the radically new laws of the kingdom and its upside-down values. There's no room in Christ's kingdom for superficial Christianity, for this is a kingdom that has historically turned the world upside down. The Kingdom that Turned the World Upside Down will challenge you to the core in your Christian walk.
Read more

Reviews

---
Extremely informative
03/16/2012
By Laura H.
I have very much enjoyed the book "The Kingdom That Turned The World Upside Down." I have never read anything like it. It was extremely informative as I began to read it. I found that I really wanted to take my time and really grasp the message. It is also a book that one can read over and over again.
The Kingdom That Turned the World Upside Down 02/14/2009
By a Christian pilgrim
This book, like Will the Real Heretics Please Stand Up, is a must read for anyone who seeks to understand the true Christian faith that was once for all delivered to the saints.

Order Form

---
If you would like to recieve a copy of this book mailed to you free of charge, please fill out the form below.